One of the best places to advertise is in places where people are waiting, like an elevator or lift.
Elevator advertising or lift advertising is one of the most effective marketing avenues available because those waiting are a captive audience and you can have their undivided attention. If there is more than one lift or elevator, it can be a great location to roll out a multiple ad campaign.
With elevator advertising, first impressions really count so memorability is vitally important to take your brand to the top. It's truly a unique opportunity for businesses who want their products to stand out from the crowd without any distractions.
The Bay Media team can produce high quality lift door advertising & signs from your print-ready artwork, or our professional designers can work with you to create eye-catching lift ad designs that will attract your prospective clients.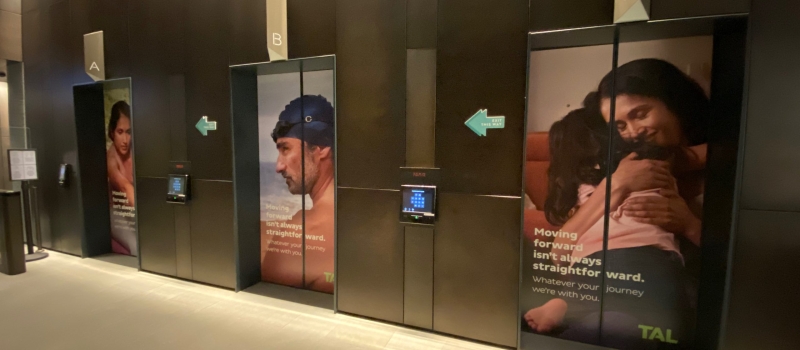 Lift door advertising can be strategically placed based on your target market to get the best exposure for your business. It can also be a very clever way to build brand awareness with a specific demographic – particularly in office locations where your potential customers are using the elevators regularly.
If the lifts are located in an isolated area, for example – dedicated to a carpark, they can be a fantastic place to advertise vehicle related products.
Bay Media pride ourselves on producing sharp, high resolution graphics in brilliant colour. Materials used for elevator advertising are of an exceptional standard to present your brand in the best light possible.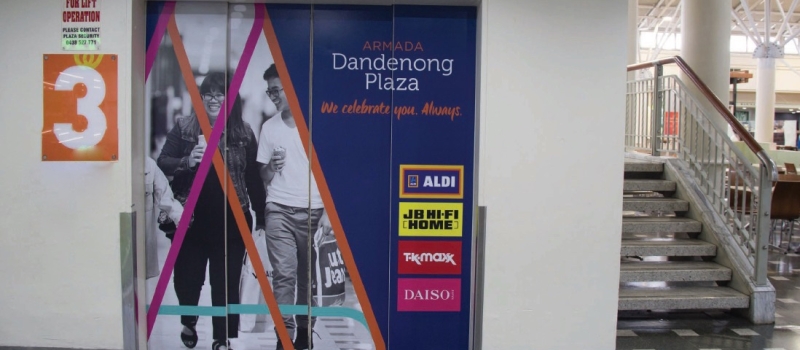 Shopping centre lifts, escalators and moving walkways in airports are another effective way to reach your audience. Bay Media can deliver quality signs, floor & window graphics, floor stickers & decals and many other forms of advertising media to capture the attention of your prospects.
The Bay Media team can also arrange professional installation with a fast turnaround in virtually any commercial or retail location around Australia.
For more information regarding any form of lift ad or elevator advertising or for a free quote, call our Bay Media team on: 1300 554 936.