Where others see empty spaces, bare ceilings and simple light posts, we see the opportunity to tell the world about your business or event through advertising.
Bay Media is the industry leader in indoor and outdoor advertising, including large-format banner display systems.
As the preferred advertising specialists of major shopping centres, residential and commercial developments, festivals and events, you will certainly have experienced our banner displays and advertisements.
At Bay Media, we design, print and install light pole banners, custom flags, large format banners, posters, signs, stickers and decals, floor and window graphics, custom wallpaper, shop hoardings and more.
Our banner displays are used by leading shopping centres, local councils, and even the Australian Open.
Printed indoor and outdoor advertising solutions
Advertising opportunities exist all around us – and we create the marketing and promotional solutions so your business can maximise them.
For more than 13 years Bay Media has worked with some of Australia's best-known companies, producing indoor and outdoor advertising materials that elevate their brands and promote their events, products and special offers.
Our custom printed products include vinyl banners, flags, lightboxes, wall stickers and decals, pylon signs, site and shop hoardings, floor and window graphics, as well as stickers, wallpaper, vehicle wraps and corflute signs.
Included in our offering are all the poster, flag and banner hanging systems hardware you need to safely change over indoor and outdoor advertising at the push of a button.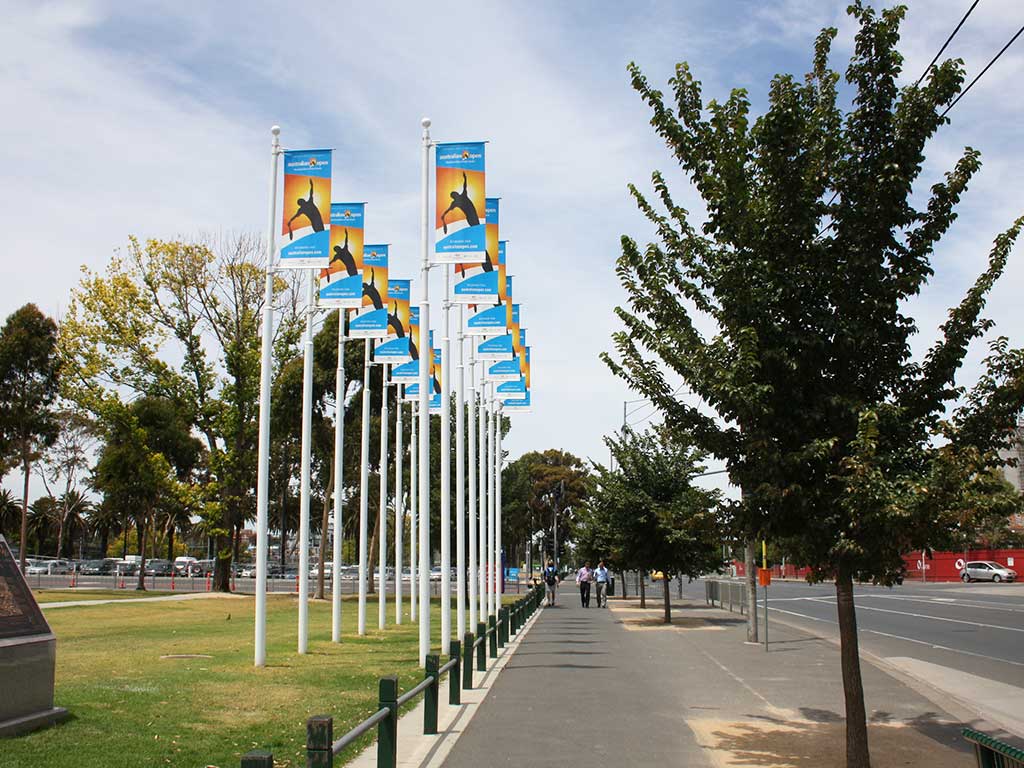 BannerSaver
It's one of our most popular outdoor display advertising solutions, due to its durability and ability to deliver results.
BannerSaver is the solution companies choose to turn existing empty spaces into branded, revenue-generating promotional spaces. BannerSaver is ideal for events and festivals, streetscapes, parking lots and more.
BannerSaver's spring-loaded brackets allow the banners to withstand high winds, keeping them safe and looking great no matter what the weather. Our banners are also created in a heavy-duty vinyl printed with UV resistant inks, so they can be used time and again.
BannerSaver is the preferred choice for local councils, shopping centres, and major indoor and outdoor conventions and festivals.
BannerDrop
If you're looking for a cost-effective indoor banner solution, just look up.
BannerDrop turns empty ceiling spaces into revenue-generating advertising spaces.
We use exclusive BannerDrop technology, which allows you to change and adjust hanging banners at the push of a button, eliminating the need for expensive specialised equipment and personnel, and providing greater flexibility.
The BannerDrop winch system is used by shopping centres Australia-wide and is available exclusively via Bay Media.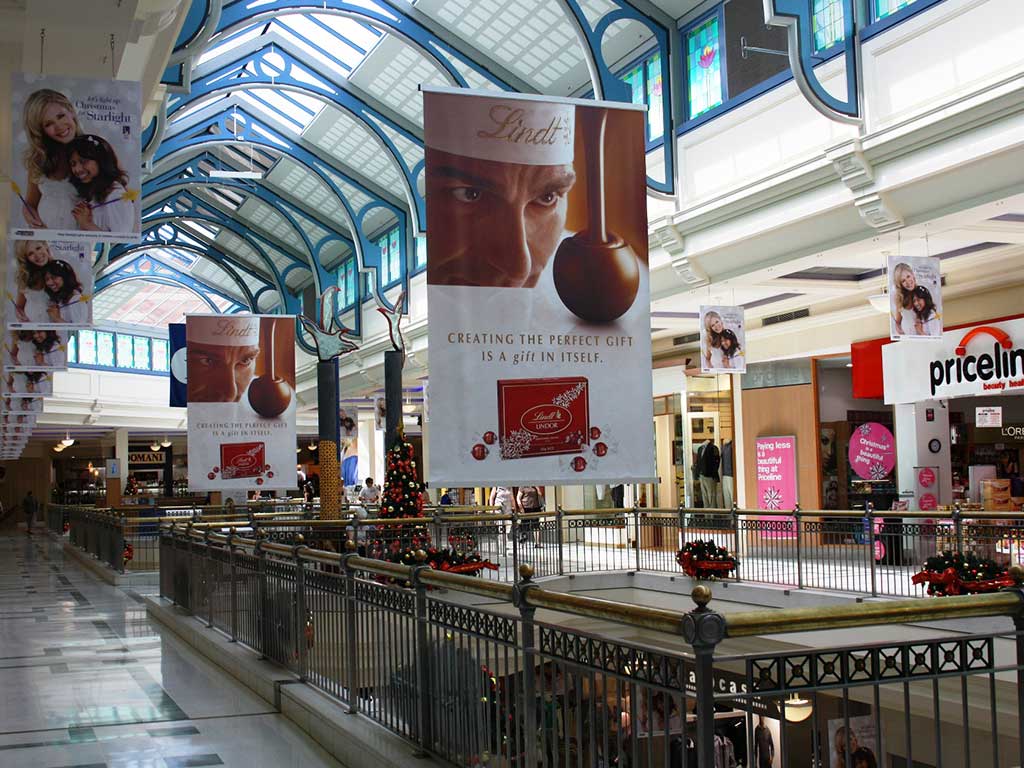 Advertising installation
Whether it's large format outdoor banners, window and floor graphics, or car and vehicle wraps, Bay Media doesn't just create the advertising, we install it too.
For retailers, our team of seasoned professionals typically install hanging banners, light boxes and shop signage – and it can be done in tight time frames, within the constraints of local authority regulations and centre management.
For local councils, we often install light pole flags and banners, which have proven to be highly effective and practical for promoting events, services and facilities available in the area to both residents and visitors.
We do installations for property developers too. Signs and banners have been popular choices for property developers looking to promote a new residential development and to keep passers by updated with any new developments happening in their local area.
Our experienced team at Bay Media have also carried out installations for commercial buildings, sporting events, as well as regional and metropolitan activity centres. There's no space we haven't worked with!
Need advertising solutions?
With the expertise to print and produce quality commercial banner displays of all shapes, sizes and materials, and our expert installation service, Bay Media offers a complete solution for your display advertising needs.
Contact us today to find out how we can create premium indoor and outdoor advertising solutions for your shopping centre, outdoor precinct, or corporate building. Call 1300 554 936 or send us a message via our contact form here.